Course Materials
Apperson Education 6 pack of 100 Q DataLink 1200 Test & Answer Sheets
Our Price:

$2.77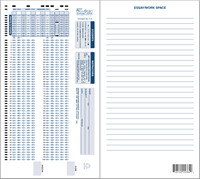 enlarge image
Product Description
Apperson DataLink scannable answer sheets have a two sided format. One side has 100 Questions, 100 multiple choice response format: A-E. Side two is available for either a short essay or notes section. Also includes a 9-digit student ID and an essay score grid.
The 28200 DataLink scannable sheets are compatible with Apperson scanners: DataLink 1200 and Apperson Advantage 1200. And are compatible with Apperson software: DataLink Connect.
Every DataLink answer sheet is specifically designed to work dependably with one of our DataLink test scanners, delivering the accuracy required whether it's for a quiz or a final exam. All of our answer sheets are backed by the AccuScan guarantee, unconditionally."
100 questions & 100 multipile choice response format A through E
2 Sided form including an essay note section
Features both a 9-digit student ID and essay score grid
Colors are white and blue